Thanks to new masts, ThinkingWISP is now able to provide fast, local broadband across 90% of Norfolk, allowing even more homes and businesses to benefit.
As it is a wireless system, you can benefit even if location means that your current internet speeds are very slow. A BT line is also not required, giving a further opportunity to save line rental costs.
Call us today on: 01603 558001
Or use our online form: Contact us
Are you in our expanded coverage area?
*Provision of service is subject to site survey.  Although we try to make our maps as accurate as possible, the information is only a guide and doesn't guarantee service availability in a particular location.
Rural communities have continued to suffer a raw deal in the 'piecemeal' roll-out of the broadband project across the UK, leading rural network ACRE has said.
ACRE (Action with Communities in Rural England) spoke out in the wake of criticism of the Government's handling of the Rural Broadband Programme by the influential Commons Public Accounts Committee.
The Committee says the Department for Culture, Media and Sport 'mismanaged' the project by awarding all of the rural broadband projects so far to BT, which will ultimately benefit from £1.2bn of public funding.
But ACRE says the burning issue for rural communities and businesses is as fundamental as whether they will get broadband or not. Chief executive Janice Banks said: "Many local councils have published maps for the rural broadband programme, which is meant to extend superfast coverage to 90% of the premises in the UK.
"But despite an earlier pledge from the Secretary of State Maria Miller, the information provided by some councils is so limited and inconsistent it is impossible for people to tell whether their homes and businesses are included or not.
"This confusion ties the hands of innovative communities who want to come up with their own broadband solutions. No one will invest in a plan that could be overtaken by the BT roll-out."
ThinkingWISP, is delivering a viable community alternative now. With download speeds of 3mb-10mb available, ThinkingWISP can make a huge difference to homes and businesses in Norfolk and Waveney – from downloading documents and filling in online tax returns more quickly to streaming video online without buffering delays.  To find out if you could benefit call 01603 558001 or discover more on this website.
Current broadband plans will be too late to help rural businesses, according to a new report, 'Let's Get Digital', by the Confederation of British Industry (CBI). A recent government spending review pushed back the broadband roll out deadline by two years, to 2017, when 95% of properties will receive the service – something the CBI say  our rural businesses cannot wait for. Homes and businesses in rural 'not spots' across much of Norfolk and Waveney can get the broadband speeds they need now with ThinkingWISP. This uses a small aerial to connect wirelessly to the internet, avoiding the speed and service restrictions of traditional solutions.
ThinkingWISP customer Fergus Anderson had our service installed at his home in Runham, said: "I used to get a very slow and unreliable broadband service of just 1.4mb/s through copper wires.  I swapped to ThinkingWISP for virtually the same price as I was paying my previous supplier and got four times the broadband speed (8mb/s). "I decided to install ThinkingWISP because I live in a rural location, 5-8km from my internet exchange, and my perception is that the conventional internet providers won't be improving my service any time soon. I suspect that there are a lot of members in this position and I would recommend ThinkingWISP to them." Fergus, who runs agricultural fencing supplier Farmbits, said: "Access to suitable broadband speeds is becoming increasingly important to  doing business in rural areas – whether filling in forms online or accessing paperless billing. "Farmbits has a policy of storing all of our data on a cloud based system so that it can be accessed from multiple locations, but only if there is good broadband access. With ThinkingWISP I can now access my cloud based system from home."
ThinkingWISP offers a range of broadband packages, with speeds up to 10 Mbit/s. The service comes with a 30 day money back guarantee.
If you live in areas Norfolk and Suffolk and suffer from poor broadband call us today  01603 558001 or click here to register.
When we started ThinkingWISP it was about solving a problem we saw our communities facing.
Norfolk RCC, InTouch Systems and Anglia Farmers had all been participating in many different meetings talking about the importance of broadband, the technical problems of broadband in rural areas, and the potential benefits. However, at the time there wasn't anything actually happing to help people on the ground.
We decided to do something that made a real difference to people's lives and ThinkingWISP was born.
We believe this is at the core of what it means to be a Social Enterprise – seeing a social problem and taking action to do something about it.
That's while we are proud to be at the Festival of Social Enterprise at the Forum, Norwich on Tuesday the 10th September.
Come along and say hi and remember you can still get ThinkingWISP broadband with 2 months free.
ThinkingWISP will be at the Green Build Event, the regions biggest green lifestyle event, at Felbrigg Hall on the 7th and 8th September.
We believe that online technology offers a fantastic opportunity to reduce our impact on the environment, particularly in rural areas.
The use of services online can help reduce the need to travel, saving time, costs and limiting the need to use polluting cars.
Ordering products online and having them delivered or using collective purchasing can lower the number of vehicles on the road reducing both emissions and congestion
Communications technology can allow us to work from home, again reducing the need to travel and helping improve quality of life.
However, all of this requires high quality broadband in the first place and that's where ThinkingWISP comes in to provide fast, local broadband.
Come along and say hi and don't forget you can still get 2 months free broadband when you join ThinkingWISP.
More details about the event can be found here http://www.northnorfolk.org/greenbuild/default.asp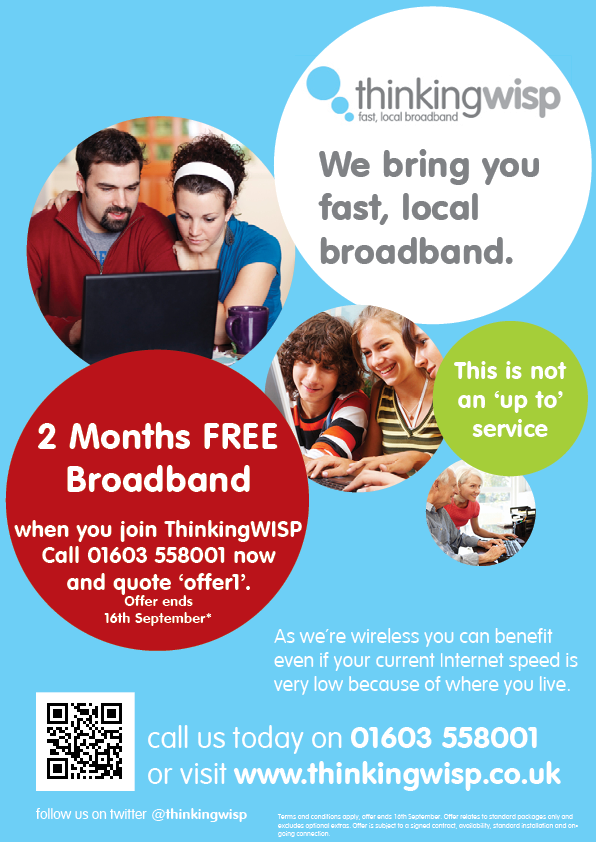 We're offering new customers 2 months free broadband when they join ThinkingWISP but hurry the offer only runs until 16th September.
ThinkingWISP connects homes and businesses to fast, reliable broadband through a network of masts. As it's wireless, you could benefit even if your current internet is slow because of where you live.
ThinkingWISP offers a range of broadband packages, with speeds up to 10 Mbit/s. The service comes with a 30 day money back guarantee.
*Terms and conditions apply, offer ends 16th September. Offer relates to standard packages only and excludes optional extras. Offer is subject to a signed contract, availability, standard installation and on-going connection.
Register your interest in ThinkingWISP at the Royal Norfolk Show and get six months on our HomePlus broadband package for the price of our Home package – just £15.99 a month!*
Come and see us at Stand 355, Avenue 12, 26th to 27th June.
See what home plus gives you by clicking here
*Usual price £22.99/month. Offer is subject to a signed contract, availability, standard installation and ongoing
connection. HomePlus gives you: 8 Mbit/s download 1 Mbit/s upload 30GB monthly usage.
We will be offering FREE WiFi at the Royal Norfolk Show 26th and 27th June. Just another example of how ThinkingWISP helps you.
Search for the ThinkingWISP network at the show for free WiFi
access* and come along and meet us at stand 355 avenue 12.
*Terms and Conditions apply
Wireless broadband from ThinkingWISP offers a fast way to connect to the Internet without the speed, cost or service restrictions of traditional solutions. Watch our video to find out more about how ThinkingWISP delivers you fast, local broadband.
Interested in ThinkingWISP? We can help homes and businesses benefit from fast, high quality broadband and have packages to suit a range of needs.
Want to find out more about ThinkingWISP call 01603 558001 
We will be returning to the Norfolk show this year with something big, possibly red (maybe black we haven't quite decided) but definitely designed to help you get fast, local broadband.
Come and join us on Stand 355 Avenue 12, Royal Norfolk Show 26th and 27th June 2013
Look out for updates on show offers and how we will be bringing you fast, local broadband on the day and beyond.