Wireless broadband from ThinkingWISP offers a fast way to connect to the Internet without the speed, cost or service restrictions of traditional solutions. Watch our video to find out more about how ThinkingWISP delivers you fast, local broadband.
Interested in ThinkingWISP? We can help homes and businesses benefit from fast, high quality broadband and have packages to suit a range of needs.
Want to find out more about ThinkingWISP call 01603 558001 
We will be returning to the Norfolk show this year with something big, possibly red (maybe black we haven't quite decided) but definitely designed to help you get fast, local broadband.
Come and join us on Stand 355 Avenue 12, Royal Norfolk Show 26th and 27th June 2013
Look out for updates on show offers and how we will be bringing you fast, local broadband on the day and beyond.
On Friday individuals, organisations and businesses gathered to hear about the future for Broadband in Norfolk. ThinkingWISP was proud to be one often solutions showcased by Mid-Norfolk MP George Freeman at the event.
As well as hearing about solutions available today, delegates heard about the staggered roll-out of the public sector subsidised scheme that would aim to deliver super fast broadband to around 80% of the county by the end of 2015.
"We fully support the roll-out of fibre to the cabinet & other solutions but recognise it won't benefit everybody and some people need a solution that's available now. That's why we created ThinkingWISP."
"The advantage with ThinkingWISP is its available today allowing your home or business to start receiving the benefits of fast, local broadband. With our no quibble money back guarantee there is no reason not to give ThinkingWISP a try. " said Jon Clemo, Chief Executive of Norfolk RCC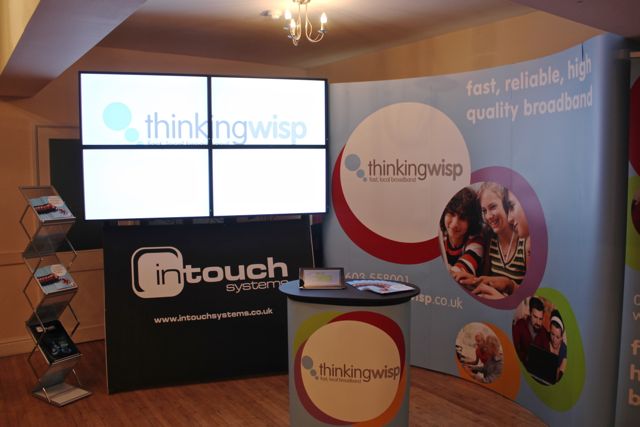 Join ThinkingWISP at the Mid-Norfolk Rural Broadband Seminar organised by George Freeman MP on Friday 17th May 6 to 8 pm, at Barn Ruche, Thetford Road, Watton, IP25 6HN.
Some of the team from ThinkingWISP will be there to answer your questions on how to get fast wireless broadband in rural Norfolk.
Read more information from George Freeman: http://www.georgefreeman.co.uk/content/rural-broadband-seminar
Hopefully see you there at the Broadband Seminar in Watton, this Friday at 6 pm!
Access to good quality broadband is essential to living and working in the countryside.  So it is not surprising that the latest research shows that it could significantly increase the value of your property. A national survey of 2,000 homeowners, conducted by ICM for the Halifax (Lloyds Banking Group), found that good broadband access affects nearly one third (30%) of people's decision on whether to buy a home and that one fifth of homebuyers (20%) said that they would pay significantly more for the same property if it had a good broadband connection.
While this is great news for homeowners who already have a good conventional broadband connection, what about homes in Norfolk and Waveney that are unable to receive high quality broadband from mainstream providers? Wireless internet from ThinkingWISP may provide the solution.
ThinkingWISP is a partnership between the Norfolk Rural Community Council, AF Affinity and InTouch Systems, which uses wireless technology to transmit a broadband connection across much of north, south, east and mid-Norfolk as well as the Waveney area. The signal is then picked up by customers using a small receiver and all remissions are encrypted for security. It offers a fast way to connect to the internet without the speed, cost or service restrictions of traditional solutions. And as it's wireless, customers can benefit even if the conventional internet in their area is slow.
Jon Clemo, Chief Executive of the Norfolk Rural Community Council, said: "Fast, reliable broadband from ThinkingWISP is transforming the way that many homes and businesses in Norfolk and Waveney are able to operate and this is likely to influence the value of their property."
The ICM/Halifax survey found that of those homeowners who would pay more for a property with a good broadband connection, 67% would pay up to 3% more and 22% would pay 4%-10% more. With the average house in the UK now costing £162,932, this means that nearly a quarter of people would be willing to pay up to £16,293 extra to buy a home with good broadband.
ThinkingWISP offers four service packages ranging from 3mb 'Home' to 10mb 'Business Plus', with prices starting from £15.99 per month.  The service uses very low contention rates (the number of people who share the same band width) to ensure customers receive a consistent, high speed service. To find out if ThinkingWisp is available where you live and for full details of packages and prices click here or call 01603 558 001.
ThinkingWISP is committed to providing a high quality broadband service that's why we are really pleased with the feedback from George Bell, who had ThinkingWISP installed at his home in Erpingham, near Aylsham, six weeks ago.
George said: "ThinkingWISP has been fantastic. Due to my rural location I used to get just 0.5mps of internet from BT
but with ThinkingWISP I get 7.8mps. I check the speed regularly online and it stays consistently at this speed with
no problems with the service.
"The engineers who installed ThinkingWISP were first-class and simply placed a receiver about half the size of a shoe box on a pole on the end of my barn. The receiver is not at all intrusive – in fact you would hardly notice that it was there."
"Having a fast internet connection has made doing business a lot easier. I filed my online tax returns in about half the time that it took me before. I also get e-mailed a lot of large attachments for work and can open them almost instantly, where it used to take minutes before. Another advantage is being able to stream video for the first time."
Unhappy with your broadband speed or the quality of service you are getting? Give us a call on 01603 558 001 to see if ThinkingWISP can help you.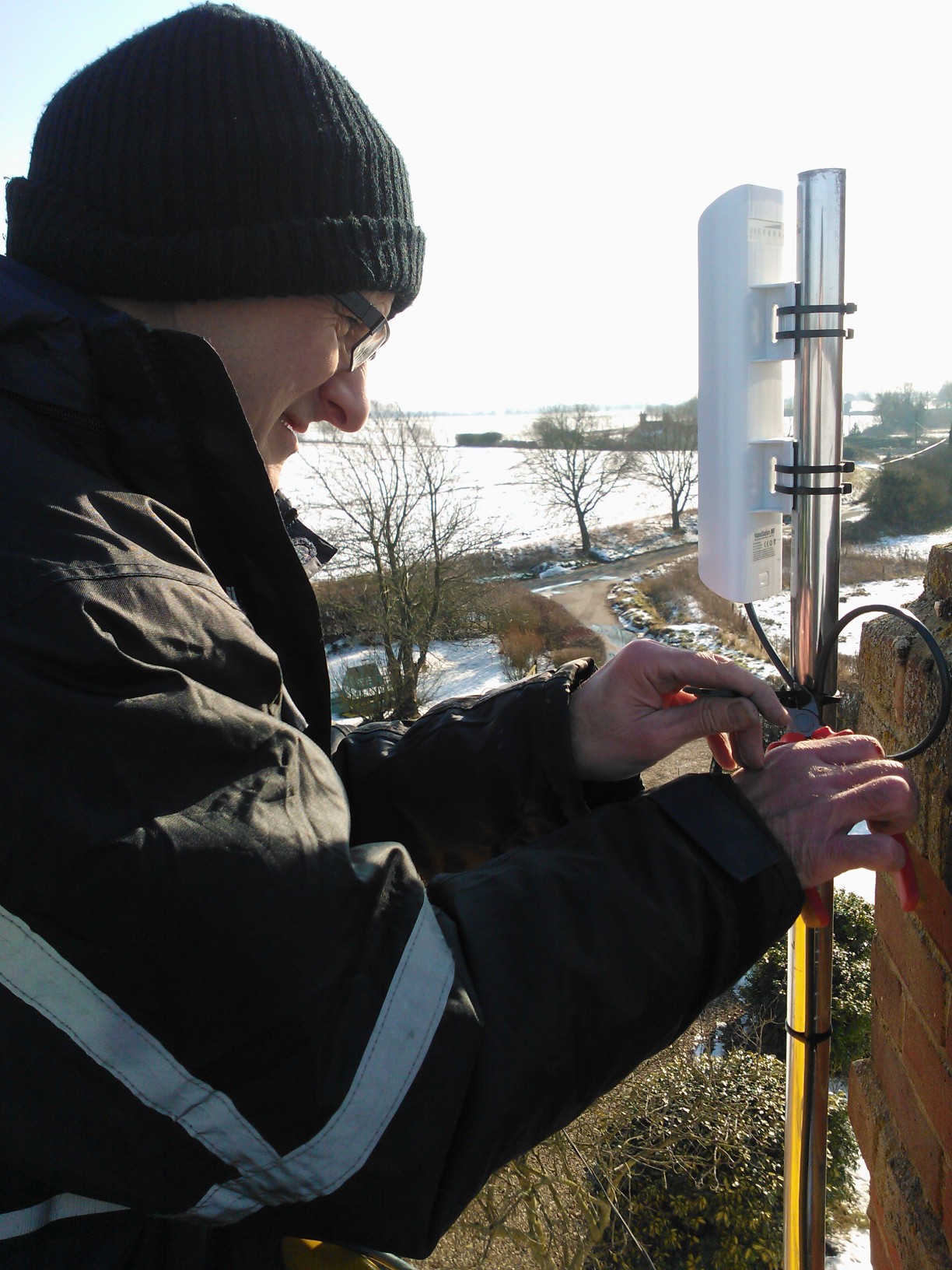 With the snow many of us are working from home today. This can be a great way not only to avoid travel delays but save money and achieve a better work life balance.
However, broadband speed and reliability can be an issue when it comes to staying connected to colleagues and the office. That's where ThinkingWISP can help.
ThinkingWISP is a next generation Wireless Internet Service Provider or WISP which offers a fast way to connect to the internet without the speed, cost or service restrictions of traditional solutions. As it's a wireless system you can benefit even if your current internet speed is very slow because of where you live. In addition, you do not need a BT line so there is the opportunity to save money.
To see if you could benefit from ThinkingWISP call 01603 558001
We have expanded our network to cover over two thirds of Norfolk, (click here to see a map) and have further expansion plans so even if we can't reach you now register your interest to be contacted as soon as we can.
How to stay connected when working from home
VPN (virtual private network) – This is a common way to securely connect to files on your office server. When connected your computer will behave exactly as if plugged into the network in the office including access to email, files and even printers (more than once we have found ourselves accidently printing documents in the office whilst working from home). To connect via a VPN you need at least a 2mb/s connection. Importantly that broadband needs to be constant and reliable, so poor quality and burst speeds are no good.  ThinkingWISP receive 100% very good or excellent feedback from its customers on the quality of its service.
Skype or other VOIP services (Voice over the internet protocol)-  are another great way to stay in touch with colleagues either one to one or via a conference call, even sharing your screen or video. Skype requires about 1.5mb/s to run video calling but remember bandwidth usage is cumulative (so two services requiring 1.5mb/s need a 3mb/s connection to work well). This cumulative usage is often the main reason to upgrade a connection with you or other family members  (children off school playing online for example) using  multiple internet services. ThinkingWISP offers packages from 3mb/s to 10mb/s to meet your needs and unlike other services these aren't 'up to' speeds.
Dropbox, google drive and many other cloud services can allow you to share document easily. Some services will even allow multiple users to edit a document simultaneously. 

One of the things to remember with document sharing is your upload speed. Many providers don't make their upload speed easy to find out but our basic Home service comes with 0.5mb/s that will meet most needs but if you need more other services come with 1mb/s or 3 mb/s upload speeds.
Want to find out more about ThinkingWISP call 01603 558001 
And however you are spending these snowy days please stay safe and warm
ThinkingWISP team

We know that Christmas can be a challenging time with all the family to entertain, that's why we've done something to make life a little easier. From the 25th December until the 1st January all our customers will have unlimited bandwidth usage*. That should give you enough game playing, iplayer watching and internet shopping to keep the whole family occupied into the New Year.
Wishing you a very merry Christmas and happy New Year from the ThinkingWISP team 
*Fair usage policy still applies. Unlimited usage promotion is from 00:01 on 25th December 2012 until 23:59 on 1st January 2013
Building on our successful pilot project ThinkingWISP have expanded our network allowing more homes and businesses to benefit from fast, reliable and high quality broadband.
The map below shows our current service area. Search for your postcode to see if you are currently covered by our services.
Green is a good coverage area* with the red areas as currently borderline. However as we are adding new transmitters all the time the 'green' or serviced areas will develop and grow.
*Provision of service is subject to site survey. Although we try to make our maps as accurate as possible, the information is only a guide and doesn't guarantee service availability in a particular location.
In our first survey customers rated ThinkingWISP's services as 100% very good or excellent overall and 100% very good or excellent for support services. All respondents also said they would recommend the service to a friend.
We are able to offer speeds from 3 to 10mb/s. These aren't 'up to' or burst speeds but the actual speeds you get and you are covered by a 30 day money back guarantee.
To find out more about ThinkingWISP and how you could benefit call 01603 558001 or visit www.thinkingwisp.co.uk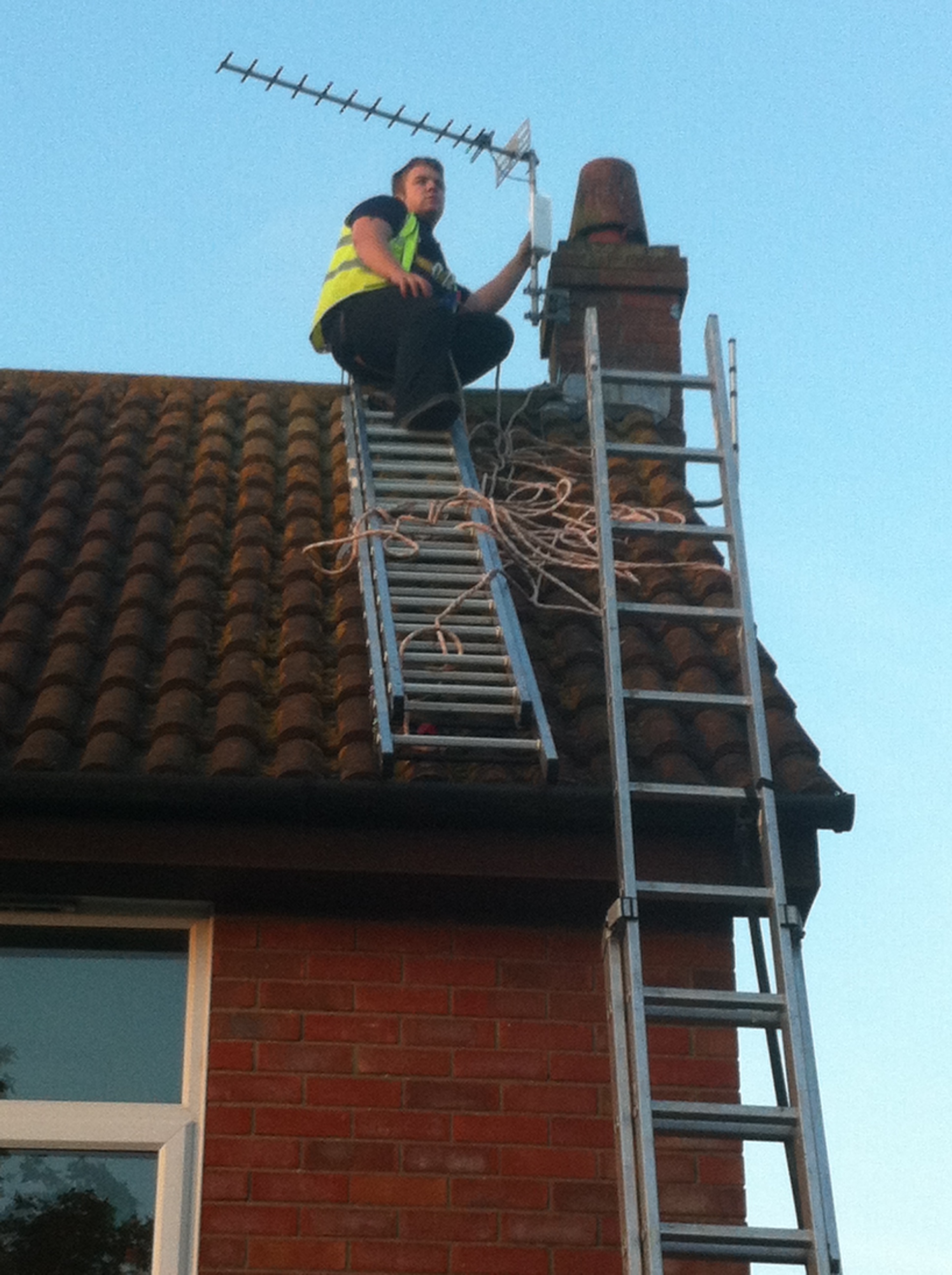 It's hard to believe that its been a year since Norfolk RCC, AF Affinity and InTouch Systems came together to provide communities in Norfolk with fast, reliable broadband connections.
From launch ThinkingWISP has grown and in its initial feedback survey 100% rated its services as very good or excellent. ThinkingWISP has also expanded over its first year adding repeaters in Hellesdon, Spixworth, Rackheath, Swannington and Bradeston allowing more people, families and businesses to benefit. It was excellent to end the year with a record number of installs but we're not satisfied watch out an announcement about network expansion soon!