A ten-fold increase in coverage area has marked a successful second anniversary for ThinkingWISP.
More homes and businesses than ever before are now benefiting from ThinkingWISP's wireless technology.
The service was first launched in the Aylsham area in November 2011.Now after two years, the area covered by the service has extended from a 10km radius around Aylsham to a 100km radius covering much of north, mid and south Norfolk, and into Waveney.
Last month, ThinkginWISP installed a new mast at Wymondham which saw its service extend into Attleborough, Wymondham, Hethersett and Long Stratton.
ThinkingWISP is also celebrating its second anniversary by joining forces with another local initiative – Norwich-based Mustard TV – and will be sponsoring the features channel.
Norfolk RCC Chief Executive Jon Clemo said: "The first two years of ThinkingWISP have been successful, benefiting many rural homes and businesses. We hope to continue to expand the service over the coming months so that more communities will be able to access reliable rural broadband.
"We're also delighted to be working with Mustard TV. We believe that Mustard TV shares many of the ideals of ThinkingWISP as we're both committed to providing a high quality service with a local twist."
More homes and businesses can benefit from fast, local broadband now that ThinkingWISP has installed a new mast in Wymondham, Norfolk.
The area covered by the new mast, which includes Attleborough, Wymondham, Hethersett and Long Stratton, is shown below: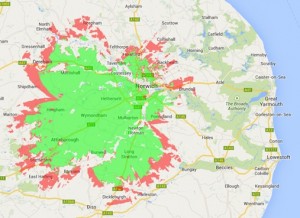 Anyone who has already contacted ThinkingWISP to express an interest in accessing faster local broadband for a home or business in the area covered by the new mast will be contacted shortly.